Venue & hotel
The European ZEB 2023 conference will be held at the Brussels Expo Centre, which is located in the North-West of Brussels, by the King Baudouin Stadium and Domaine Royal de Laeken.
Conference location:
The ZEB Conference 2023, as well as the coffee breaks, will take place in the Auditorium 500. The Auditorium 500 is located downstairs, in Hall 7, circled in red on the map below. Lunches will be held on the mezzanine, on the first floor of Hall 7. Tea and coffee can be found in the foyer, in front of the conference room (Auditorium 500 in Hall 7). The networking dinner in the evening of Day 2 will be held in a meeting room on the first floor of Hall 11, circled in yellow on the map below.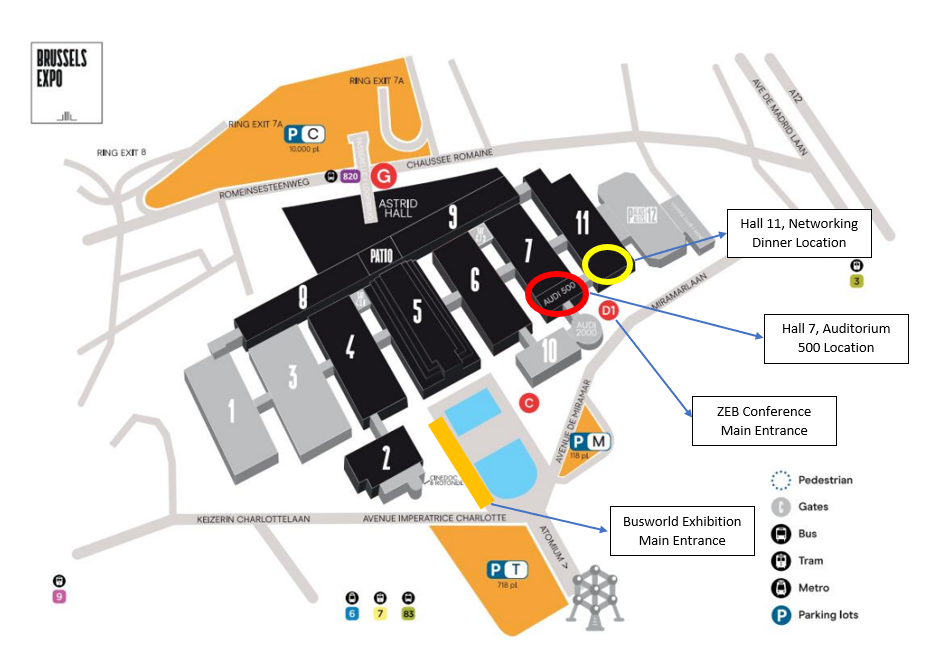 How to get there:
Please click here to find guidance and directions on driving to the Brussels Expo Centre. If you are travelling via public transport, the Brussels Expo Centre is a 5 minute walk from Heysel Station, on metro line 6 and light rail line 7. For travel via bus, please use the 83, 241 or 250 buses. Please consult the map, linked here, or the STIB-MIVB journey planner, linked here, for further guidance for public transport routes.
The European ZEB 2023 conference @Busworld Europe will be held at the Brussels Expo Centre, which is located in the north of the capital city of Belgium.
Busworld Europe hosts over 500 exhibitors, including the 80 most important bus builders in the world, suppliers of charging and fuelling infrastructure, energy management systems, providers of engines and powertrains, Intelligent Transport System (ITS), Advanced Driver Assistance (ADAS), etc.
Busworld attracts 35 000 visitors coming from 143 countries.
The distinctiveness of the Brussel Expo Centre lies in the originality of its architecture, which dates to the early 1930s with architectural style of Art Deco. This functional venue offers a variety of settings for conferences, and naturally creates an environment beneficial to the exchange of ideas, while bringing together all the material and equipment necessary to ensure the success of an event such as the European Zero Emission Bus Conference.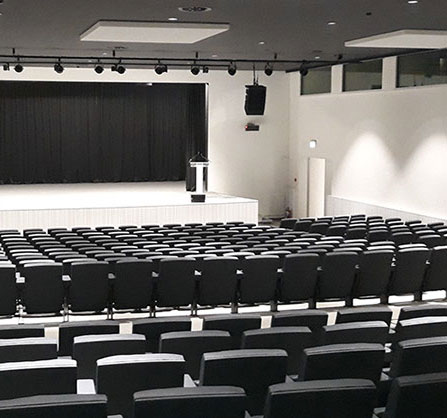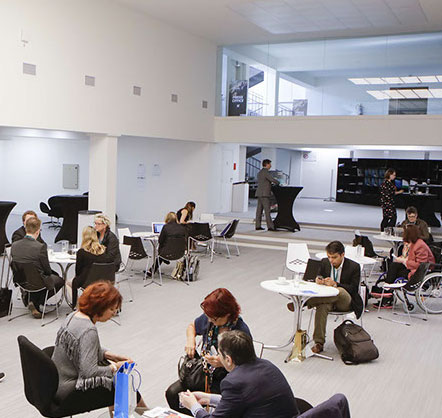 HOTEL RECOMMENDATIONS
Busworld Europe are partnered with Brussels Booking Desk. If you require accommodation when attending the ZEB conference then please visit Hotels | Busworld Europe 2023.
We recommend our attendees book early as the 'European Week of Regions & Cities' takes place during the same week, and this will affect availability and the rates of the rooms.
*Brussels Booking Desk is the only official housing partner of Busworld